Hamilton Beach 2-Way 49980A/49980Z Coffee Maker Review 2022: 12-Cup Brewer
Material:
Stainless Steel
Ladies and gentlemen, we have arrived at the future of home coffee brewing. If you think your coffee maker can do it all, then you probably haven't seen the Hamilton Beach 2-Way coffee maker yet. 
If you are interested to know more about this particular product, read on through this review. Hopefully, I can help you make a more informed decision about whether this would be a worthy purchase or otherwise. 
Design and Construction
This Hamilton Beach 12 cup coffee maker comes equipped with some solid features that will catch the attention of those who are searching for a versatile coffee maker. You can brew up your standard drip coffee or you can even make the single k cup variation with just this one machine.
Size
As you may probably expect from a coffee machine that can brew up 12 cups at a time, this one brings in a lot of weight and bulk. 
With its 10.6 x 12.2 x 13.7-inch frame, you will need the right amount of counter space to store the Hamilton Beach coffee maker. Not to say that it's a negative trait, but if you're living in a tight space, this appliance may not be as suitable for you. 
This machine is not that easy to move around, as well. Weighing at 7.4 pounds, you will need an extra hand if you intend to switch its places in the kitchen.
Material
It is also made of stainless steel material to ensure that your coffee maker looks as good as new even after a few years, provided that you give it a little tender loving care. The carafe lid, drip chamber, and drip basket are made of durable plastic to prevent dings from accidental bumps. 
The Hamilton Beach coffee maker uses a non-stick, keep-hot plate to ensure that your coffee is kept heated at all times. It won't matter if you overslept a bit. Your coffee cup will still be steaming the moment you wake up. 
Safety Features
One distinctive safety feature that stands out with the Hamilton Beach Coffee Maker is its automatic-shutoff function. Never worry about not turning off the machine upon going out.
After just a couple of minutes of inactivity, this coffee-maker turns off by itself, saving you time and electricity.
Accessories Included
The Hamilton Beach Coffee Maker is packed with accessories for added convenience to its users. For one, it comes with a 12-cup glass carafe for easier multiple servings. Its carafe-side reservoir also has an extra-large capacity, including some measurement markings. 
A single-serve side brew basket with a mesh filter is also included. This particular accessory holds the ground coffee in place, which also prevents spillage for easier cleanup after use. 
This coffee maker also has a single-serve multi-level cup rests that is customizable to fit all cup and mug sizes.
Brew Time
Hamilton's swift brewing time is one of its many impressive features. It takes less than five minutes to make a single cup of coffee for myself. And if I want to brew up a batch for the entire household, that will take me under seven minutes to complete. That kind of efficiency is a massive plus for me. 
This coffee maker also has a programmable clock and timer that allows you to set your coffee drinking time around 24 hours ahead. This feature is very useful as it gives you a time frame of how long it will take to brew a cup or a pot. That gives you a chance to plan out your mornings or to get you ready for those sudden moments when you will need to make a few mugfuls quickly. 
Brew Quality
The speedy brewing time does not take away from the overall quality, which is another thing I love about this machine. I was particularly impressed by its brew strength selector. With just a few touches of a button, you can have either a regular or bold strength coffees. Now whether I choose to go premium-roast or decaf, I am never disappointed in terms of flavor and quality. 
I am not very particular when it comes to coffee brands (even though I do have my preferences). What I am particular about is flavor, which I believe, is greatly affected by how the machine does the brewing.  
No matter which brand I use, whether it's Coffee Beans Arabica house blend or the Dunkin Donuts ground variant, the Hamilton Beach 2-Way Brewer always captures the full flavor. I usually go for the bold setting, and this machine gets it right every time. 
Ease of Use
At first glance, the Hamilton Beach programmable coffee maker may seem like a complicated contraption to use. Unlike the standard coffee drip maker, its control panel and mini display monitor may throw you off at first. This is understandable because of it's added k-cup feature. 
But the way I see it, it is a coffee maker filled with more options, and who does not like variety, after all? I like how it offers me choices in terms of strength and flavor. It makes me feel like a barista in action, and I am only pushing a few buttons.
If you are a fan of the straightforward plug-and-play coffee maker, you may find the multiple clicking a bit distracting. However, it is not something you would have a difficult time getting used to. Like me, this machine may very well turn you into an instant fan.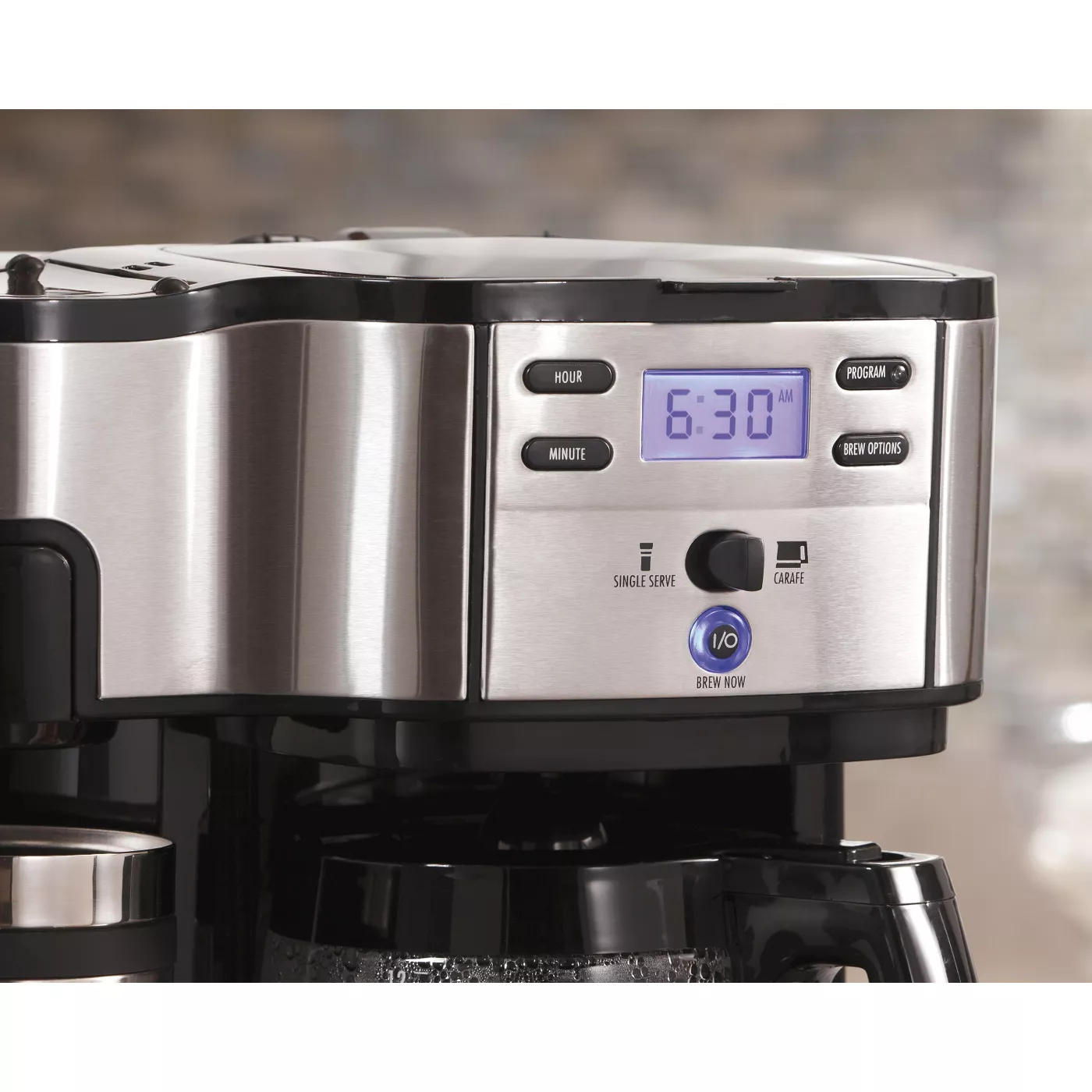 Clean-Up
For such a complex-looking machine, it's easy to have the impression that the Hamilton Beach dual coffee maker would be a headache to clean. But just by looking at its stainless steel body, those impressions will surely fade away. 
You will never have to worry about any extra clean-up job on the surface. Just a few light scrubs using a damp and any spill, splatter or drip will be gone immediately. I also like how the water compartment is wide enough to help avoid spillage. 
This machine is equipped with two filters, and the second mesh filter catches any tiny granules that may get through the first metal filter. If you are like me who hates the post-brewing cleanup process, this small feature is something you would greatly enjoy, as well. 
Best of all, both filters, the drip cup, and the 12-cup glass carafe are all dishwasher safe. This alone will save you a ton of time during those hectic, busy mornings. 
Brand & Customer Service
I would consider Hamilton Beach as a reputable and credible brand when it comes to home appliances. Given that it's been in business since 1910, it's a company that has gone through decades of evolution and innovation and made the necessary tweaks along the way. 
The 2-Way Brewer is just one of the many testaments as one of the major players in the home appliance market. The product is above average, and their customer service representatives are always accommodating to respond to any consumer concern. The warranty offer applies to US and Canada residents, which could be a limitation. 
Making a warranty claim for this two way coffee maker is as easy as pie. There is no need to physically drop by the store to report a damaged product. All you will need to do is contact them via phone or send an email (1), and your concerns will be addressed. That adds to the convenience of owning a Hamilton Beach machine. 
The warranty period for this particular product is good enough. For a full year from the original date of purchase, you as the consumer are entitled to free repairs and replacements of defective parts. This is pretty much the standard warranty offer which you as a consumer may also encounter when purchasing similar products from competitor brands.
Value for Money
The Hamilton Beach 49980A/49980Z coffee maker has a double-up function of drip and single cup coffee, a programmable timer, and an auto-shutoff function. 
You would think these features would make the coffee maker expensive, correct? That is not the case here.
The price tag on it is much less than $100 but it is a bargain when you consider the features Hamilton Beach has thrown into this machine. That is why it has made it on our best drip coffee makers list. 
Downsides
This particular coffee machine is an exceptional one, but even the most advanced inventions have their flaws. There are not many in the case of the 2-Way Brewer, but they are worth mentioning, nonetheless. 
I personally find its size a little off-putting, especially if, as I have previously mentioned, you do not have that much space to work with. In essence, that deprives those with really small kitchens from the perks of having this product. 
But with size comes efficiency, as the Hamilton Beach Flexbrew 49980 can do both single-serve cups and a full pot. That's hitting two birds with one stone, saving you a good amount of time and energy. 
I also would have wanted a lengthier warranty offer. Some brands offer at least two years, and as long as five years for their consumers. I do not consider to be a significant flaw, but it would have been a nice bonus. 
But so far, this coffee maker has gotten mostly positive consumer reviews. There are not any complaints about broken machines, so even a warranty offer of this length should not be an issue. 
Who Should Buy this Coffee Maker? 
If you are an avid coffee drinker with less than $100 to spare, the Hamilton Beach 2-Way Brewer would be a good purchase for you. It definitely offers much more than your standard run-of-the-mill coffee drip maker. I would put this product on the low tier in terms of price. 
I would recommend this product for the caffeine junkie who's always on the go. The programmable timer and auto-shutoff function would be perfect for your tight, busy schedule. 
This machine is perfect for both coffee connoisseurs and casual drinkers who just want it for the buzz. The former should get a kick out of the brew strength and flavor selector feature. 
I would also recommend the Hamilton Beach coffee maker to the techie caffeine lover looking for something more than just the ordinary. This product is technologically sound enough to not only give you great tasting coffee, but it will satisfy your gadget curiosity as well.
Final Verdict
When it comes to coffee brewers, I look at convenience, quality, and functionality as the top traits. 
For this Hamilton Beach 2-Way coffee maker review, I rate it a 4.2 out of 5. It does provide me the convenience that I need (automatic shut-off for the win!), it is highly functional for everyday use, and I have no complaints about the quality of coffee it renders. 
Everything would have been perfect if the warranty offer was a bit longer. But with the output and great bargain I am getting for its very affordable price, I can let that slide. 
Speaking as a long-time coffee-lover, I consider this product to be worth every penny. I think it would be a great choice for you if you are looking for great coffee on a budget. 
Hamilton Beach 49980A Video Review
Specifications
Hamilton Beach 2-Way 49980A/49980Z Coffee Maker Specifications

Brand
Hamilton Beach

Model
49980A 2-Way Brewer

Material
Stainless Steel

Brew Type
Drip + Single Cup

Cup Capacity
12 Cups

Programmable Timer?
Yes

Warranty
12 Months

Price
$
Frequently Asked Questions
References
Article By:
James Kilpatrick
I'm James, a self-professed coffee enthusiast in pursuit of finding the perfect daily brew and likes to live by the motto 'Just brew it".
beaniecoffee.com may earn commissions when you purchase items through links to external source such as Amazon. Read our affiliate disclosure here.